SET 1: THREE ORIGINAL MASKS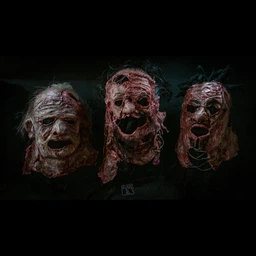 In 2022 I started a series of OOAK masks and just finished most up in 2023. With 15 masks in total, Im releasing 5 sets of 3 masks. This is the first set of 3 masks.
Each mask is a one-of-a-kind sculpt. Nobody but you will have these scuplts. They are truly unique and original.
You'll get the exact 3 masks pictured - not stock photos! Includes mask stands and free shipping. Ill spend a few more hours touching them up before they ship.
Free shipping (from Michigan USA). International orders welcome - be aware you must pay any import taxes.
1 Set Available! No copies of these sculpts will EVER be made! These are it! #1/1's. Set 1 of 5 unique sets.